This is the first time IKUSA Samurai Battle Game !! will be organized as a game for international exchange.
Chambara
English
IKUSA
Osaka Castle
Samurai Battle Game
大阪城
戦
英語
We have held the IKUSA Samurai Battle Game before in different parts of Japan and it is really popular.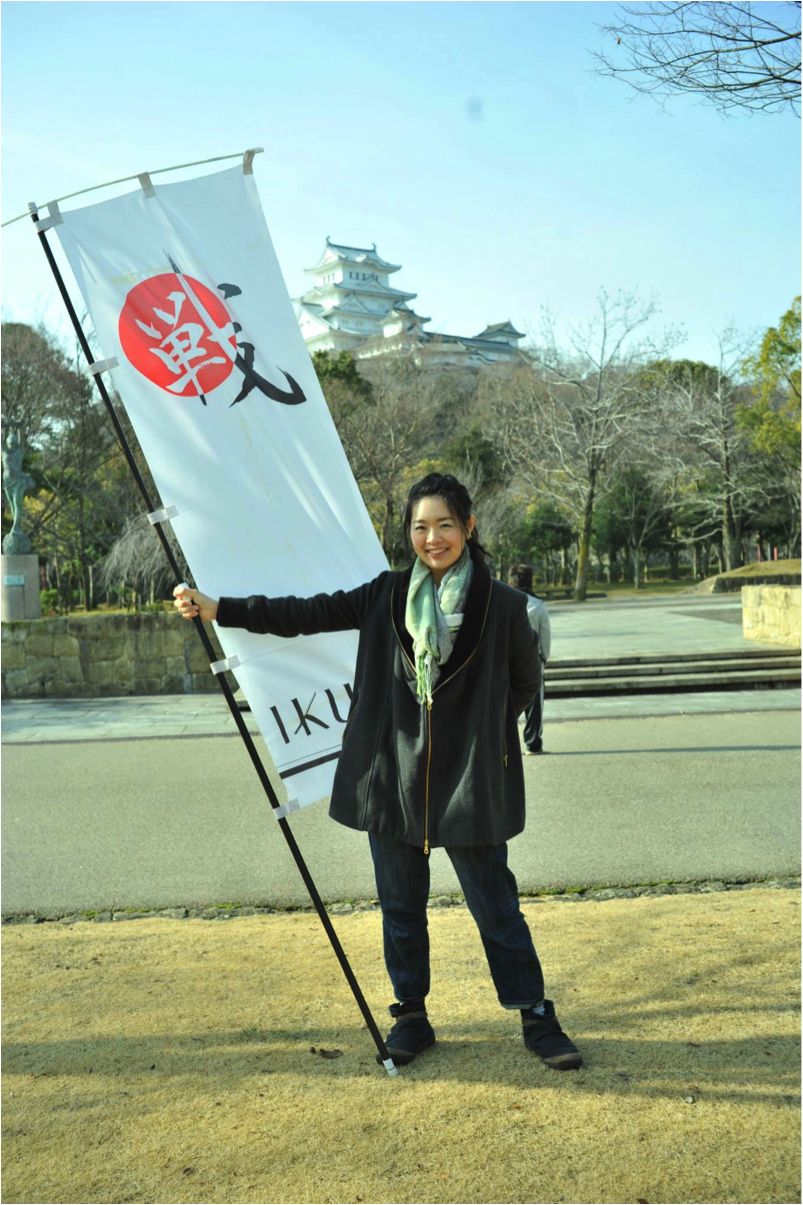 On the 12th of april, 2015 the IKUSA Samurai Battle Game will be held and for the first time it will be limited only to people that can communicate in English.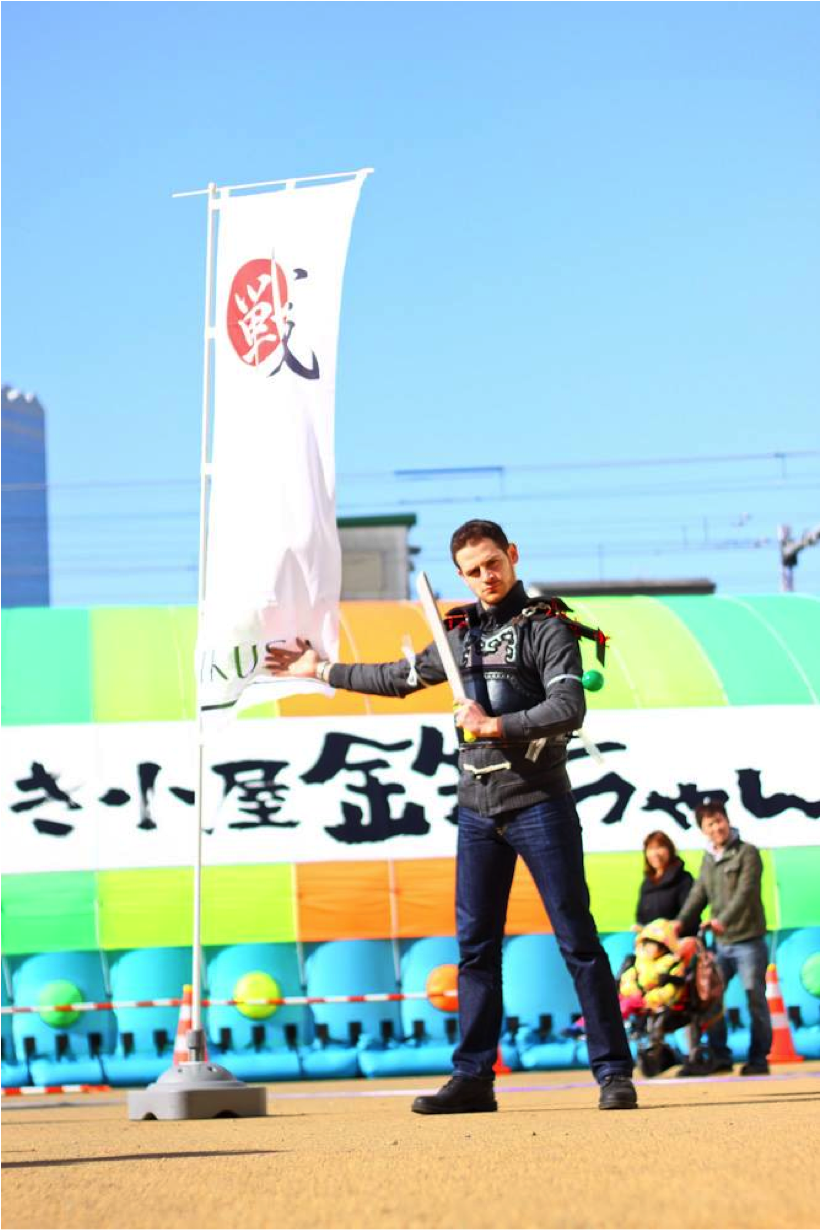 The IKUSA Samurai Battle Game is already very popular within Japan. Next we also want to introduce the game to foreigners. The 5 attractive points of the game are: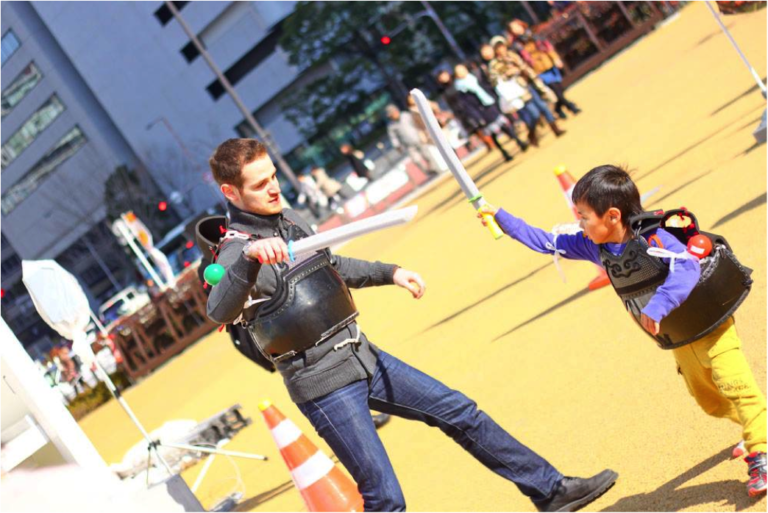 ※ Everyone can enjoy this game. From young to old.
チャンバラ合戦-戦 IKUSA-公式サイトはこちら

1. An old-time favorite
Playing make-believe plays outside such as samurai sword fights with your friends by picking up a piece of wood besides the road or taking a broom from home is something everyone used to do! Even your dad or grandpa! We revived this old popular make-believe play as IKUSA Samurai Battle Game , where you can experience the culture of Japan. Everyone can enjoy this game regardless of age, sex or nationality.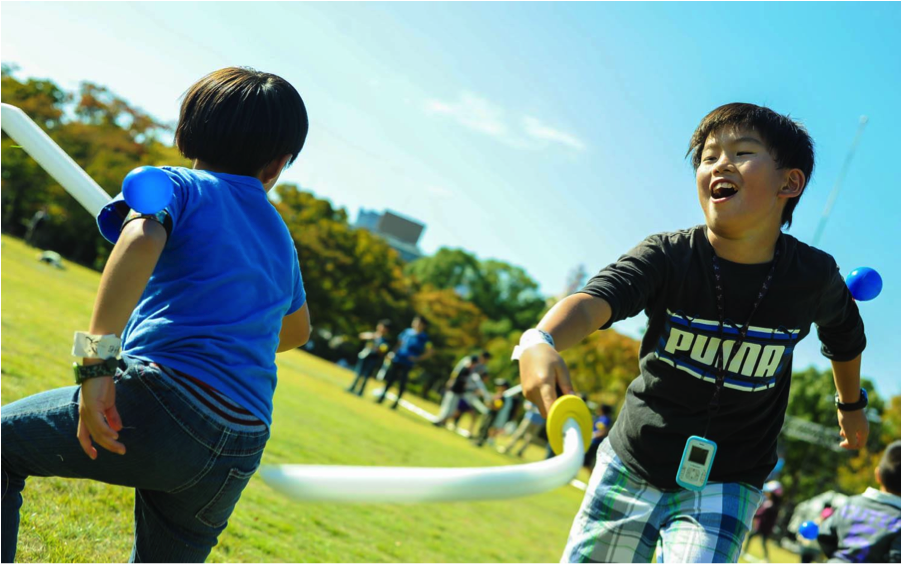 2. Easy-to-understand rules
The basic rules of the IKUSA Samurai Battle Game are really simple!! At first, you hold a sword in your RIGHT hands and arm your life ball on your LEFT arm. The goal is to make the life ball of your opponent drop with the use of your sword.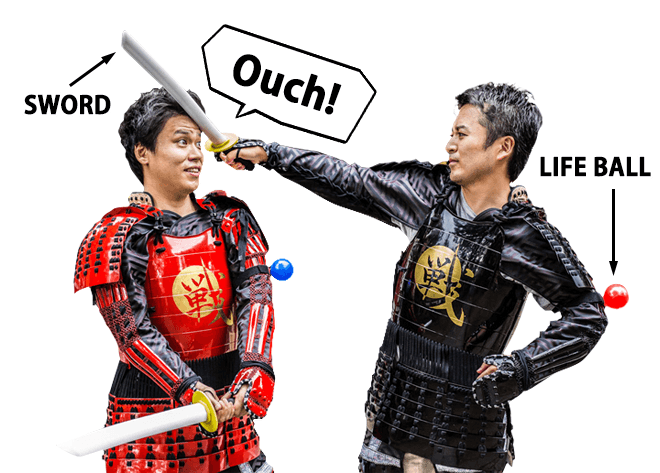 If your life ball drops during the game you are out. Please move outside the battlefield when you are out. The game is safe because the sword you will use is made of soft sponge, so even if you hit your opponent it will not hurt! This the most safe "war" in Japan where you risk your "life". Can you survive until the end!?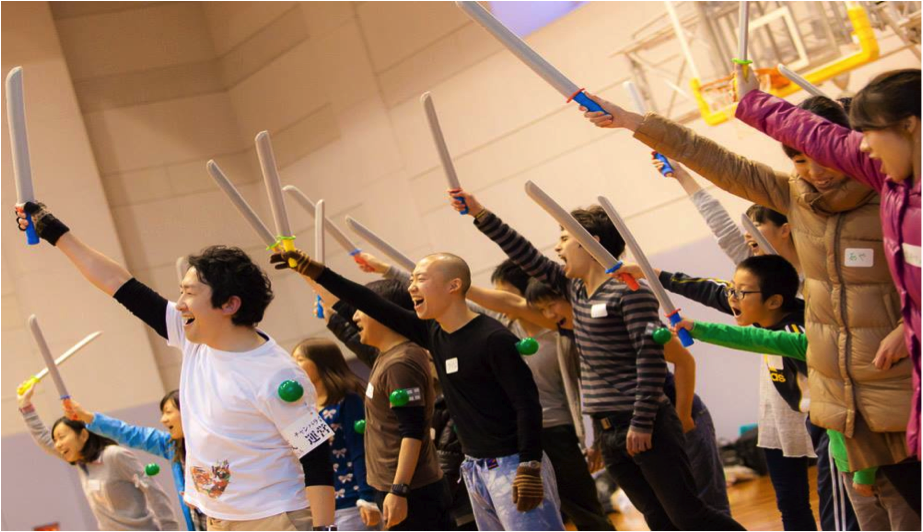 3. Many variations
To make the IKUSA Samurai Battle Game even more fun there are several variations of the game. We will explain three of the variations. 【Team battle】 The life balls will have a color and you will fight with a total of 2 to 4 teams divided by the color. You can win by eliminating the opposing team within the time limit or by having the most survivors when the time is over. The event will be started with a team battle!
【Protect the general】 Your team decides who will be the general/leader of the team, when the general of a team "dies" the other team will win. How will you protect your own general and how will you kill the general of the opposing team. You have many different tactics to your disposal such as launching a all-out attack on the general of the opposing team or you can hurdle around your own general to protect him. This makes the game a lot different compared to a normal team battle. How will YOU fight for your general!?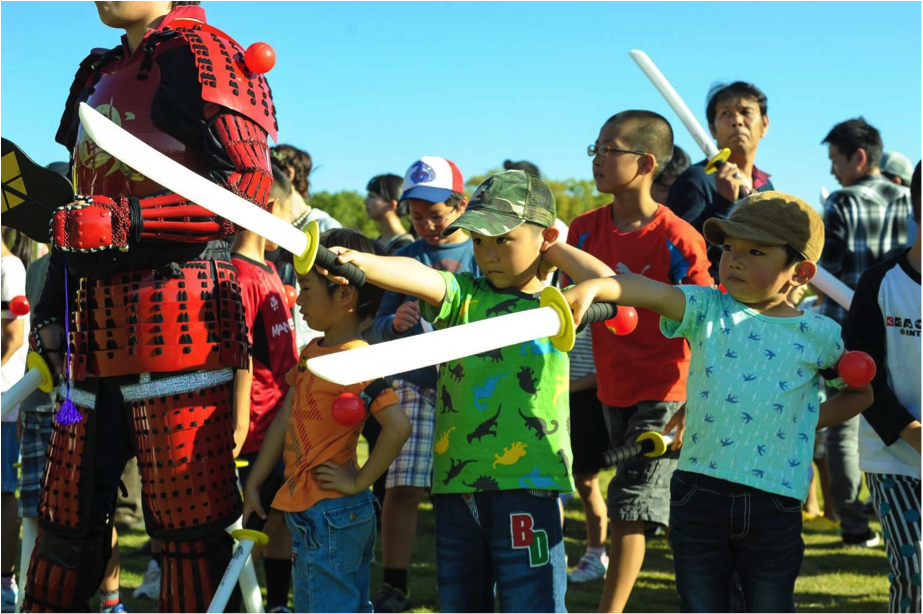 【Battle Royale】 In Japan there is the proverb "Your friend today could be your enemy tomorrow" Following this proverb, everyone besides yourself will become your enemy in this battle variation. The key to survive is to watch your surroundings and to have ingenuity. Sometimes you need to form alliances to survive… one moment later you may need to betray them… You need to be sly sometimes. Soo, who will be the last surviving samurai!?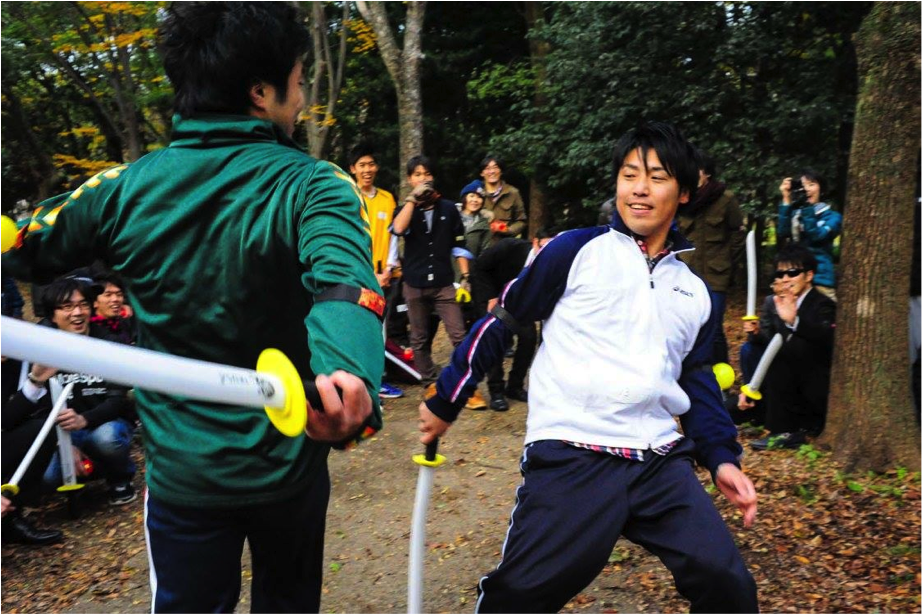 4. The world most peaceful war based on the code of the samurai.
Every participant will be able to enjoy this game! From young to old regardless of age and nationality. Everyone will be able to enjoy the game if they act in accordance of the spirit of the samurai. All the rules of the IKUSA Samurai Battle Game are based on the code of the samurai. If you keep the code of the samurai in mind, everyone can participate in the game with a smile. This way you can make new friends and can become close with everyone. This is one of the most attractive points of the IKUSA Samurai Battle Game !!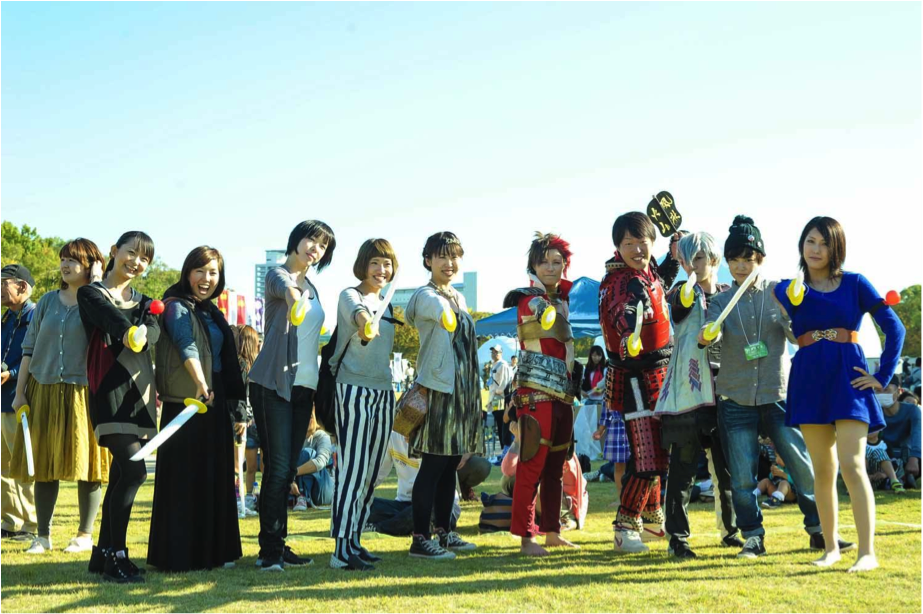 5. It is more fun than you can imagine!
Many participants have told us that it was fun to watch the game, but that it is even way more fun to participate in the game by themselves. According to a questionnaire we have performed on the 100 participants of a IKUSA Samurai Battle Game in Tokyo, 95% said that they wanted to participate again in a IKUSA Samurai Battle Game !! Is it really that fun? You have to find that out by yourself!
6. Interview with a participant.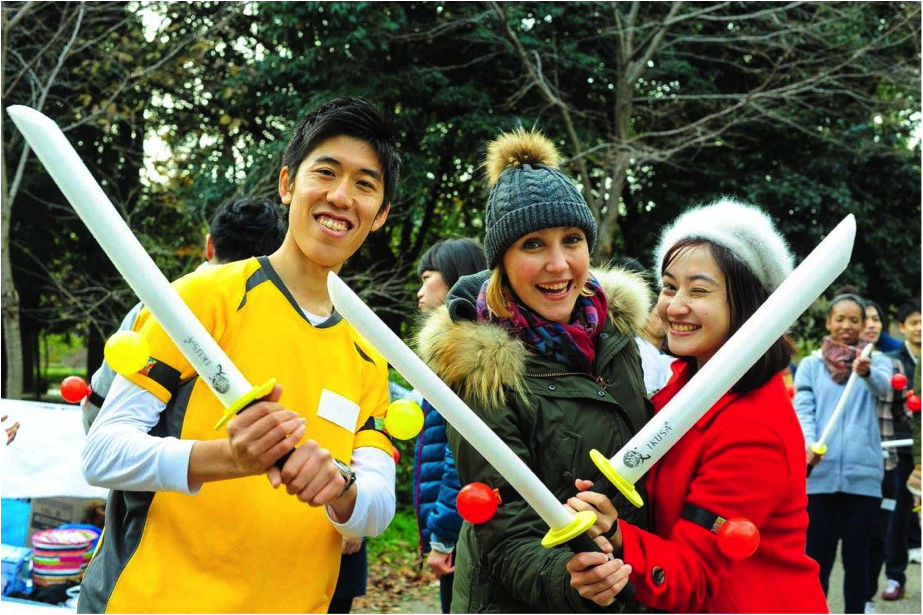 We've gotta wonderful interview from this cute lady on the middle of the photo! :)) She is from Germany and played the IKUSA Samurai Battle Game for the first time. We could see how excited she was!! :)))) Dankeshön!!
Q1. How did you feel to play IKUSA Samurai Battle Game ?
I really enjoyed playing outside and it was a new game for me, so i was very excited what will happen to me…During the game i was always happy and smiling because it was really funny…especially when the hunters came.
It was good for me that the rules were so simple and for foreign person like me easy to understand. And I have seen that this kind of sport kills the language barrier between Japanese and English, so I could improve my Japanese a little bit and maybe some Japanese guys their English. And it is really good for making new friendships, because you are always doing teamwork in someway.
Q2. Have you ever played any Japanese outside game before you played our Chambara ?
No. I have never played any Japanese outside game before.
Q3. Would you like to play IKUSA in your home country, too ?
Of course I would like to have this opportunity in Germany. I think my friends and other german guys would love it, too.
7. You have to try the game out! Let's enjoy it together !
****Event Details****
↑ Click here if you facebook 【Date】 April 12, 2015(Sun.) 【Time】 14:00~16:00 Please arrive by 13:45 【Location】 Taiyo-no-Hiroba(play ground)in OSAKA CASTLE PARK 【Access】 About 5min from JR Osakajokoen Station 【Fee】 1500 yen (students:1000 yen) 【Sign up】 Just click "Join" button on this page. *Notice This IKUSA event is going to be held in English. Anyone who would like to communicate using English is welcome to come. Join us!! Thank you.
チャンバラ合戦-戦 IKUSA-公式サイトはこちらチャンバラ合戦-戦IKUSA-のお問い合わせはこちらチャンバラ合戦-戦IKUSA-の資料ダウンロードはこちら